Designing Inclusive Retail Experiences
TELUS commitment to diversity and inclusiveness has been a cornerstone of their award winning culture and they are now partnering with BIG IDeA to build a more accessible retail store experience. A diverse groups of creative minds have gathered to solve a set of design challenges that will improve the way that all customers but particularly persons with mobility disabilities, hard of hearing, and Deaf, navigate and interact with team members at TELUS stores.

Team Radar
Challenge
Researching Accessibility Of A Location. It's hard for customers with disabilities to know in advance how accessible a store may be if they've never been there before but this shouldn't be kept as a surprise. Customers want easy access to descriptive information about store accessibility as it relates to their individual needs so that they can make an informed decision about traveling to the store; or what they need to know to prepare to go.
Solution
To reduce the number of steps needed to find available accessibility information by making sure the information is visible, locatable, and understandable using icons and descriptions. By providing a 360-degree annotated experience with images Team Radar hopes to avoid surprising customers by being able to highlight store accessibility features ahead of visits. This could be substituted by VR or AR environments in the future.
Prototype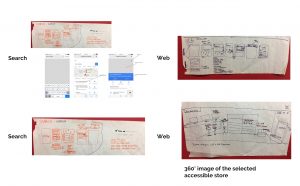 Team Radar's Prototype

Team L.E.D.
Challenge
Communications Options. Customers looking to research purchase or get support may need to contact TELUS at one of its channels (web, phone, and store). In some cases, a customer contacting one of these channels maybe redirected to a different channel (e.g. from phone to web site). This can be challenging for customers who are deaf or hard of hearing, because of communication barriers with staff and/or low literacy level in English; or for customers with a mobility disability that must now make the extra effort to travel to a store. Throughout their entire interaction with TELUS, customers need to be able to complete tasks they want to do using the channels and communication methods that is most comfortable and natural to them.
Solution
L.E.D. developed multi-channeled system that starts with a website that displays accessibility information that leads into a sign language accessible video. This video would be captioned and also showcased outside of TELUS storefronts on large LCD screens to invite deaf customers. By also providing written blurbs and tablets that present the information in sign language beside products the deaf community is able to easily access phone and plan information. In store customers would be greeted by a TELUS representative who is either from the deaf community, an interpreter, or a person who signs. TELUS could also implement Video Remote Interpreting Service so that deaf customers can communicate directly via a screen to a representative regardless of whether staff in store can sign themselves.
Prototype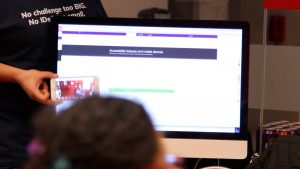 Team L.E.D.'s Prototype

Team INTELUS
Challenge
Choosing Phones and Plans. Customers with disabilities are often left on their own to determine what phone and plans fit their specific accessibility needs. Because of the diverse set of products sold through TELUS stores and the frequency of accessibility related questions being less, it is difficult for the store staff to keep on top of all accessibility features of products, plans, and offerings at TELUS. For example, just look at the long list of accessibility setting available on your phone. Customers need to know about special features of devices or service, including accessibility features so that they can make an informed decision about which phone and plans are best suited to their specific needs.
Solution
Virtual system called the T-MATE to match customers with phones and TELUS plans that fit their needs. The T-MATE collects and builds a database of customer needs to suggest certain phones and plans. It also connects users with a community of other TELUS customers and gives them access to TELUS resources based on what they are looking for.
Prototype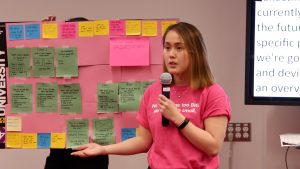 Team INTELUS's Prototype

Team Elephant
Challenge
Dignified Access to Interpreter Services. Being able to communicate in your own native language can make a world of a difference. For example, customers whose first language is sign-language (ASL) feel much freer to express themselves when they can communicate through sign-language rather than writing and reading. However, having staff at the store to communicate fluently in the customers native language is not always possible. Customers want a way to guarantee they will have easy access interact in their preferred language as part of an integrated experience.
Solution
Team Elephant created an device to use in store so that customers do not need to disclose their language barrier to TELUS representatives. The devices allow customers to interact freely with ease. Based on their preferred method of communicating with the device, a notification is sent to a customer rep about their preferred method of communication.
Prototype
Team Elephant's Prototype

Team IMANI
Challenge
Building Confidence of Store Employees. The attitude of the retail staff can make or break the experience for a customer. The staff may have best intentions about helping the customer but they are afraid of saying or doing the wrong thing. As a result, customers with disabilities can sometimes feel that retail staff reacts negatively when they first approach them. Customers want to feel welcome and appreciated when interacting with retail staff.
Solution
Team IMANI plans to develop a mentor mentee system to support TELUS representatives so that representatives are better equipped for assisting people with disabilities. By creating a space that allows for TELUS representatives to relax during situations of high tension and giving them the ability to contact their mentor within a safe space will improve TELUS's relationship with their customers.
Prototype
Team IMANI's Prototype

Team USHOP
Challenge
Shopping Independently. Customers who have a mobility disability often have to ask for help just to browse through the stores and look at the merchandise. As individuals, they want to be empowered to browse and shop in the store independently.
Solution
By redesigning the interior space of TELUS stores in the form of adding in additional resting areas, electronic directory services, accessible signage, and top to bottom product organization USHOP has proposed a more accessible space for those of all abilities.
Prototype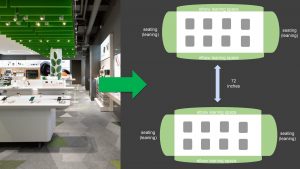 Team USHOP's Prototype